The Studio of Josef Sudek
Josef Sudek lived and worked in the photographic garden studio for 32 years. The Gallery, which is superintended by the Museum of Decorative Arts in Prague, regularly showcases works which directly relate to Sudek's creations or present the works of his students..
Petřín
You'll reach the top of the hill on foot, through the alleys between the gardens or by taking a ride on the cablecar. Right at the stop at the foot of the hill lies a wonderful children's playground. At Petřín we recommend a visit to the mirror maze or to the tower itself. The tower was built as a part of the Jubilee Exposition in 1891 as a free copy of the Parisian Eiffel Tower (to which it is scaled 1:5), it measures 63,5 meters (208 feet) in height and its peak stands at the same point above sea level as the actual Eiffel Tower.
National Gallery Prague
You only have until the end of the year to visit the exhibition titled Art from the Rudolfine Era to the Baroque in Bohemia in the Schwarzenberg Palace at Hradčanské Square. If you'd rather make something yourself, check out the Gallery's Facebook page – it features artistic studios and programs for children and adults alike.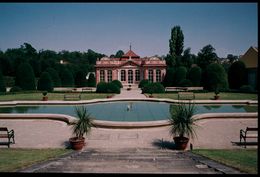 Mohlo by vás zajímat
From Pohořelec to the peace of Nový Svět
Walk through the gardens of the Černínský Palace all the way to Nový Svět, where you can slow down and lazily wander. Peak into the Military Church and visit the current exhibitions of the National Gallery in Salmovský Palace. It is here where you can also taste traditional dishes of the Czech aristocracy in the restaurant Kuchyň.
Kuchyň
In the restaurant in the Salmovský Palace of the National Gallery Prague, Head chef Marek Janouch prepares Czech dishes. He urges you to engage your sight, smell and taste. Raise the lid of the pots on the stove, inhale and have a look for yourself at what is cooking. Kuchyň serves lunches and dinners of multiple courses along with a daily special. This goes hand in hand with carefully treated Pilsner beer – and the whole of Prague is at your feet.
The routes are prepared in collaboration with Prague City Tourism.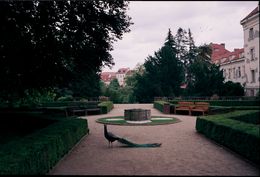 Mohlo by vás zajímat
From Malá Strana through Vlašská Street all the way to the Castle
Enjoy the view in the Vojanovy Gardens, try some film tricks in the Museum of Karel Zeman or climb to the top of the Saint Nicolas bell tower. Read at the Lennon Wall and then head to Kuchyň at the Castle to savor food that was favored by the nobles.